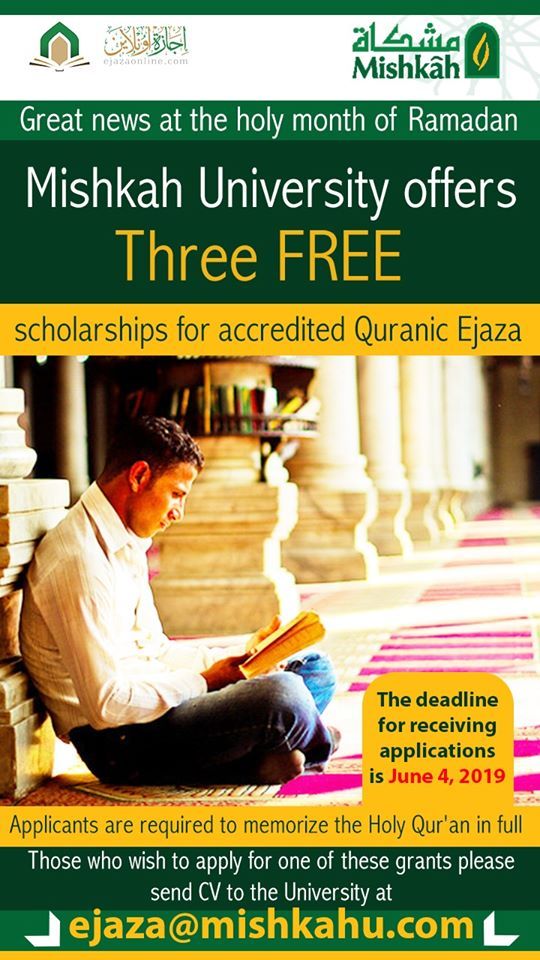 If you are committed to memorizing the Quran, alhamdulillah Mishkah University, Egypt, has great news for you. It is offering 3 scholarships this Ramadan for students who qualify, to study the Quran through its Ejaza Online إجازة أون لاينprogram. In this month when the Quran was revealed, what better time to make the intention to memorize and understand the words of Allah, Most High? Please see the flier for application details. Also check out the video links below, to view some of the beneficial, essential courses the university offers through its Ejaza program.
Those who wish to apply for one of these grants please send CV to the University at [email protected] or
For detail about Ejaza Online program please visit this link.
Mishkah University: Three FREE Scholarship for accredited Quranic Ejaza Online program 2019. EjazaOnline is part of the Quranic Studies Department at Mishkah University. EjazaOnline aims to become the most prominent Quranic platform on the web to teach recitation and Tajwid of the holy Quran and to graduate Hafiz and Mujaz reciters within 5 years.